The following review was submitted by convention attendee: A.B. who took some good pics and gave some good info on the con. Check out the gallery at the end and thanks, A.B.! Anyone who likes conventions is cool with me, and having your initials be a blood type is a bonus!
Walking up to the door of my first ComicCon, I'm looking around wildly. It's maybe ten minutes after the doors open, and I'd been sent around to the back entrance for a shorter line, and it's still maybe 20 yards to the door from where I start. Within five minutes, the line has stretched to over 100 yards long, and my friend and I are playing spot the cosplay costume. (The winner is either a Ghost Rider (of Marvel's Agents of Shield), complete with a beautiful Harley, or the five year old girl in a purple Batman costume, who was doing continuous kid acrobatics and play fighting.)
We check in with minimal hassle, the volunteers/employees are all cheerful and helpful, and head straight for the map. For the past few years, Albuquerque ComicCon has been held at the Albuquerque Convention Center, a three-story building with three massive halls, an auditorium, a multitude of rooms, and attached parking garage.
We spent the first few hours wandering around in mild shock and getting our bearings, scanning the hundreds of booths and vendors, and consistently taking the long way around to the escalator we needed. By the time we felt we knew roughly where things were, it was noon, and we were getting hungry. The con does have both bars and snack counters in all major rooms, and more on the top floor, but it was really expensive and looked rather unappealing. Instead, we found a small Middle Eastern sandwich place right around the corner, called Zohra's, which had fantastic (and huge) gyros for only $6. The lady who owns Zohra's told us she opened purely for people going to ComicCon. (There was also a Subway, a Starbucks, and a coffee shop across a street from the convention center, and much more a few streets away.)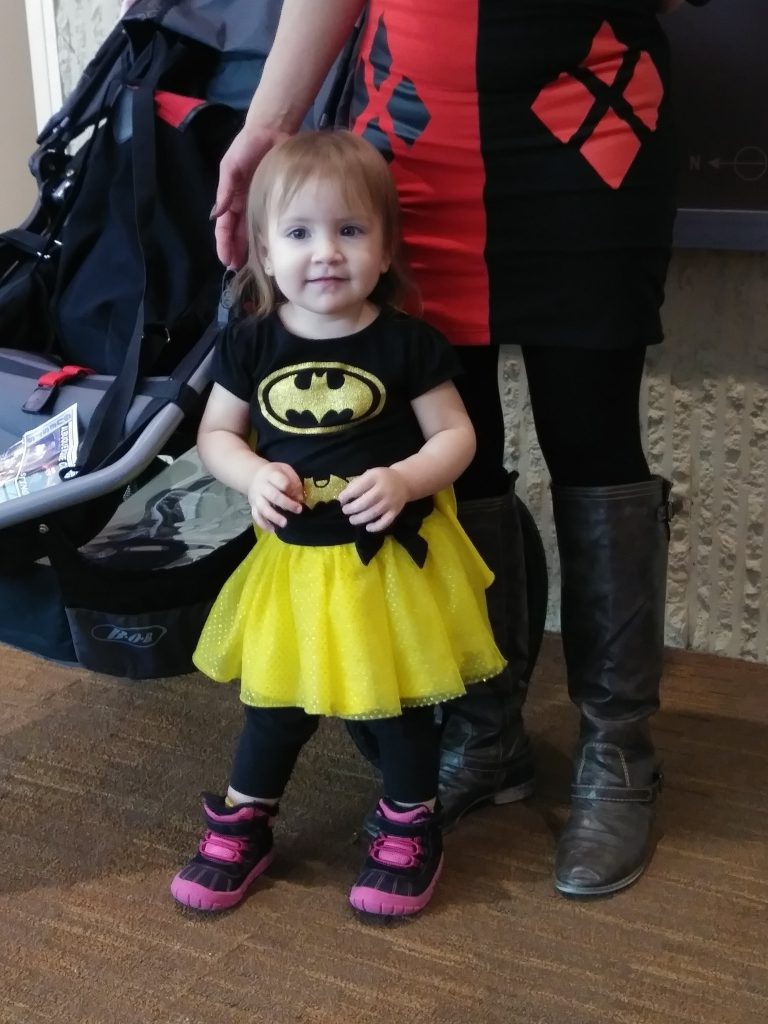 As we eat, we can see the massive line forming for entrance, which is now approximately two blocks long on each side. Luckily, the in-and-out process is much easier than that of checking in initially, so if you're planning on showing up later in the day, or specifically for this or that event, it might be worth it to check in at opening time, get the wristband, and come back a few minutes before your event. Otherwise, you might be in that line for over an hour, listening to this or that political speech.
We didn't visit many of the events or panels. The big-name guests, Chandler Riggs, Pilou Asbaek, and Danny Trejo, were of no interest to either my friend or myself. The 'Comics Trivia' game was somewhat poorly named, as questions were mostly about 80s sci-fi movies and The Walking Dead, neither of which come to mind when one says "comics". However, they did give out free comics with each correct answer, and had no entry fee. The guy who runs 'Sci-Fi Speed Dating', which held three events on Saturday, is a total sweetheart, as we found out when my friend signed up for the 3 o'clock session. She got several numbers and I, sitting in the back, got a great deal of entertainment out of it. Days in which one can watch a stuttering Green Lantern hit on an unimpressed (and very attractive) female Hellboy are rare.
There was one panel which we ditched because of the testosterone level. It was comparing Star Trek, Star Wars, and the Orville, a discussion which I was highly interested in. However, my friend and I were the only girls in the room, and a good ten years younger than the next youngest person there, and the mansplaining was more than we felt like dealing with.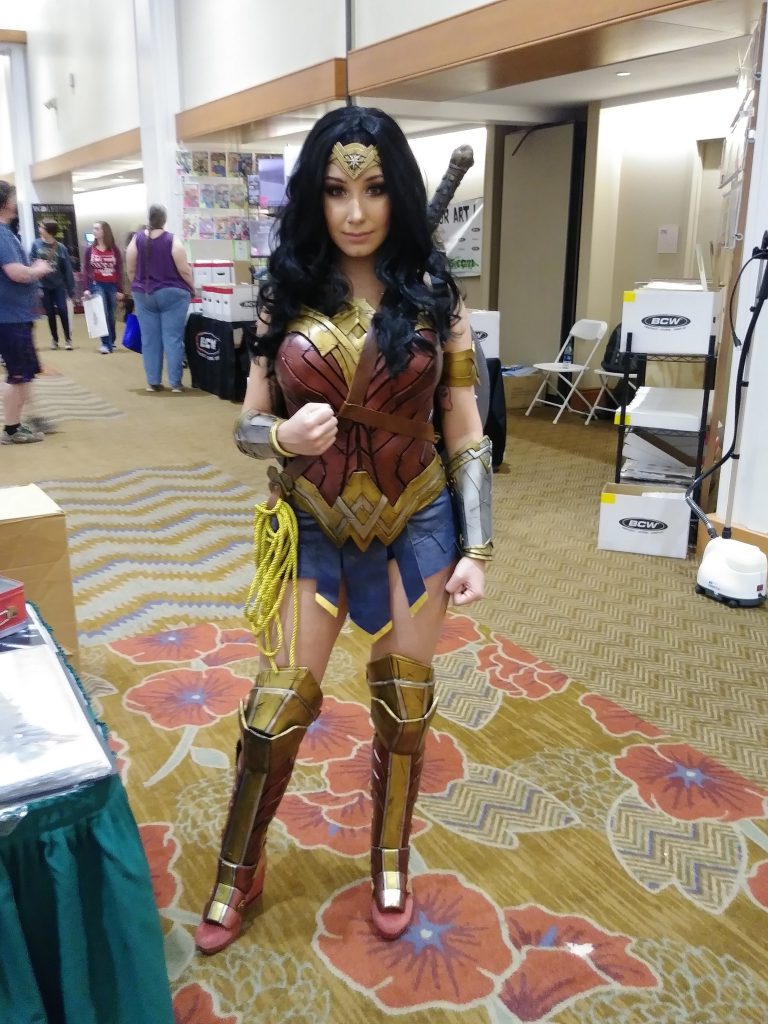 We spent the majority of the day wandering around booths and talking to cosplayers, which was definitely my favorite part. I saw a full sized Dalek, complete with voice modulator and smoke gun, two separate Wonder Woman cosplays which looked as though they belonged on set more than in Albuquerque, a number of fantastic Spider Man -s and Deadpool -s, two Anastasia Romanova -s, a number of period-accurate 18th century gowns, Nixon's head in a jar, the female Ghostbusters, Klingons, Odin All-Father and his All-Children (who carried and used rams' horn trumpets), eight foot tall demons, and so many more simply fantastic cosplays which boggled the mind.
But better than that, almost, were the more modest cosplays, those worn by children who likely believed themselves to be meeting demons and aliens and all manner of strange looking folk, and wore their favorite superhero shirt or TV character's costume to meet them. Better than the professional cosplays, in a way, were those done by teens on an obviously low budget, but who made their costume by hand, and haven't stopped smiling since putting it on. Better than seeing a movie grade Storm Trooper suit was seeing the guy in a fantastic but mildly terrifying alien suit coaxing a scared toddler into a high five, after her parents came up and said their kid was scared but curious about the alien. Better than the Captain Jack Sparrow look-a-like was seeing the Thing playing peek-a-boo to cheer up a crying baby, because apparently it works better when it's a strange looking person doing it. (I was honestly surprised by how much faster a crying baby cheered up when I was bald with heavy eye make-up than when I did the same with long hair).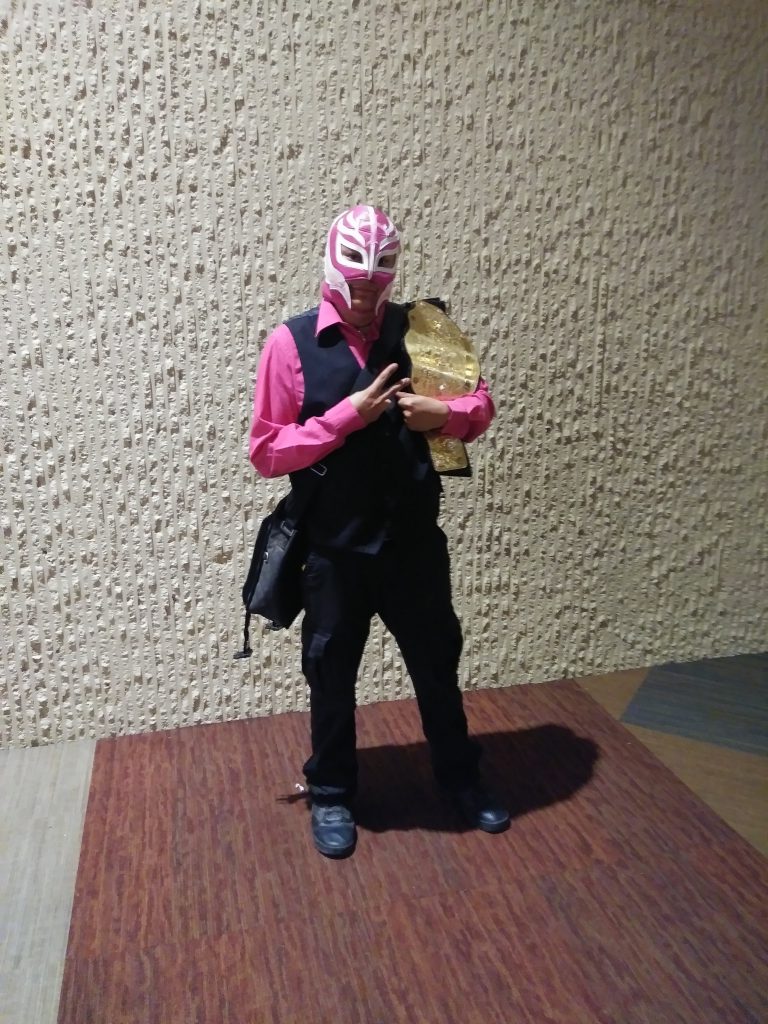 All told, this con was a fantastic experience. Yeah, I could do without the few mansplainers I met, or the two drunk dudebros who really really wanted a pic with me and my awesome Eleven cosplay (I wasn't Eleven) and ended up spitting on me (I don't think they noticed), but the good by far outweighed the mildly unpleasant. There were really awesome cosplays and booths, I spent over half an hour with a girl who ran an art booth discussing Patty Jenkins and Wonder Woman and the costume choices shown in Wonder Woman, and all told there was just this wonderful sense of community. I saw zero slut shaming, people were always happy to pose for pictures or explain the hows and whys of their costume, and I actually accidentally charmed the head of security into buying me a comic book, because he said my grin was why he did what he did.
There was also an absolutely amazing impromptu dance-off when the woman hosting the Cosplay Masquerade ran late. I swear that, if not most of the participants, both finalists were professionally trained.
P.S. Albuquerque ComicCon had a Friday night 'preview' of the con for autistic kids whose sensory issues would make attending the more public times difficult/unpleasant. It was free, and included a workshop for cosplaying. I (obviously) didn't go and so it's not in the main body, but I found this event really cool and worth mentioning.