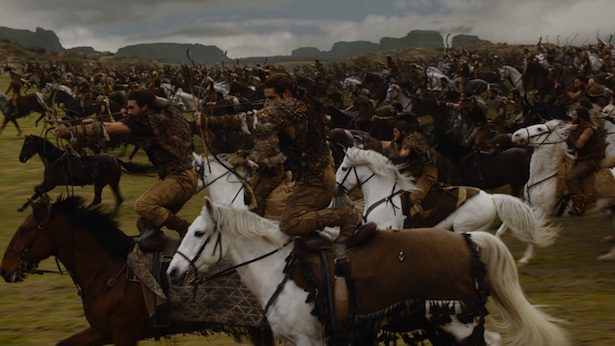 Despite being made to wait 13 years, I am all sucked back into Game of Thrones. If you didn't watch til yesterday you can read Cider's recap now but if you did then you know that the Dothraki finally got to fight an actual army. They said 40 seasons ago that nobody could beat them in an open field but there was poor Lefty Lannister, stuck in the middle of nowhere while the horde bore down on them. Honestly the dragon was a little bit of overkill.
But Khal Drogo who died in season one never got to see it. Jason Momoa is busy filming Aquaman and hoping that he is the breakout star of Justice League (which everyone seems to think he will be) but he still misses his days of grunting, leading the horde, pouring liquid metal on the coconut of his brother in law and really giving it to Danerys. Here's his Instagram post after the episode.
I like to think he wrote it himself because he swears so much and while he is a big actor now he still seems to be pretty happy to just be on the team which is always endearing. Jason Momoa is fun and he could beat you up. So get ready for Justice League this year and Aquaman in 2018. In the pic below, Jason is the horde with the dragon and we are Jamie. But we don't hump our sister. Well I don't. I guess I can't speak for the rest of you.