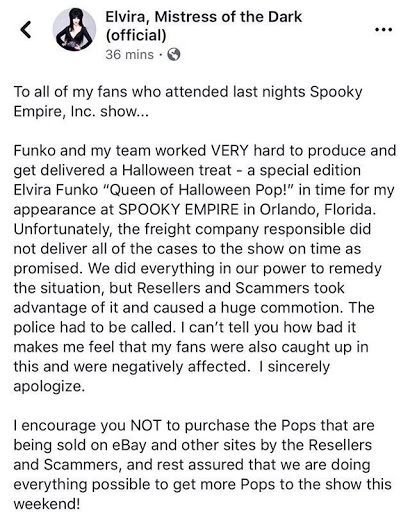 A reportedly very poorly handled Funko doll release at Spooky Empire on Friday left many fans incredibly upset and frustrated, with some even vowing never to return to the convention. 
The anger was over a limited edition Funko Pop doll of Elvira, which fans were told they could purchase for $55 and get autographed by Elvira herself. However, Elvira was only signing autographs on Saturday and Sunday, so those patrons who purchased the doll would have to return on Saturday or Sunday if they wanted it autographed. The lines to purchase the Funko started at 5 P.M. Friday for regular guests, and 4 P.M. for VIPs. 
Apparently, however, things soon dissolved into a nightmare when over 700 guests waited for 10+ hours in line (some even all day) for the limited edition Funko, only to learn that the dolls had not yet even been delivered to the venue. In addition, only the first 60-70 people in line were given vouchers for the dolls. The rest were told to leave or be removed by the police.
In a statement released by Cassandra Peterson, aka Elvira, she apologizes for her fans that may have been "negatively affected" by the angry commotion caused by what she refers to as "Scammers and Resellers" upon them being told that they needed to leave or be escorted out by police. In her statement, Ms. Peterson chalks the complete lack of Funko dolls up to the freight company not delivering the order on time, and says that both she and Spooky Empire are doing their best to get more dolls to the show this weekend. A screencap of her statement has been posted below. 
Below is just a mere sampling of the multitude of people who tweeted their disgust over the Elvira Funko Disaster of 2018. While some fans expressed their anger over not obtaining the coveted doll, others expressed their belief that it was those in line to get the Funko doll that caused the issue when they overreacted at the news and began causing a scene. Superficial Gallery intends to dig deep into this and hopefully get a comment from the show management.