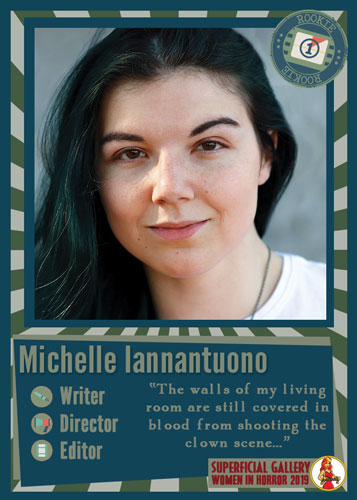 Find Michelle Online!
We have a monthly show on our Facebook page called Octopunk Live, where we always give away merch or free video games! It is a great way to learn what we're up to next, and to interact with us directly.And here is where you can submit to AtomaCon Short Film Festival! www.filmfreeway.com/atomacon
Our Conversation with Michelle Iannantuono
Michelle Iannantuono is a writer and is a ROOKIE this year!
Which of your achievements to date are you most proud of?
My feature film Livescream, which required me to push myself into the uncharted waters of game design in order to create the film.
What's your favorite horror film and why?
Scream – it is the perfect slasher formula, has great characters, a great twist, and is both scary and fun.
Who is your hero in the horror world and why?
Karyn Kusama. She made me feel seen as a teenage girl, sitting in the theater at age 17 watching Jennifer's Body with my best friend. It was probably the first horror movie I ever enjoyed, because until then, I didn't know that horror was a thing that I could relate to at all.
Share a practical tip for a woman who wants to do what you do.
I've found that women inherently have higher standards of their own performance than men do. This can be used to our advantage, because the more we hone in on our standards of quality and performance, the more we can become so good they can't ignore us.
Inspire someone who is not where they want to be in the industry yet.
I remember sitting in the back of film fest audiences, watching all my friends get awards while I went home empty handed. I remember standing up at Q&As and having no one care about my movies. It took me to my fourth film before I won ANY awards for my work. It can be tough waiting for your time to come, but it WILL. The practice and the anonymity of it *not* being your time yet is also a great place to meet people, to develop a crowd of true friends, to hone your craft, and to ultimately prepare you for the day when your work starts to take off.
Scare the crap out of us with something you have done or plan on doing!
The walls of my living room are still covered in blood from shooting the clown scene in Livescream.
What projects do you have coming up?
– A Detroit Become Human fan film called Detroit Awakening, which will be a web exclusive this March
– My next short/feature project called Seven Deadly Synths, which will pretty much be my first non-horror project (although comedy thriller almost falls into that realm).
– The publication of my first novel Paradisa, a contemporary fantasy that's basically "what if a bunch of mythological gods and angels formed The Avengers"?
– I'm also the festival director of AtomaCon Short Film Festival, and we are ACTIVELY seeking genre films from women and other marginalized groups!