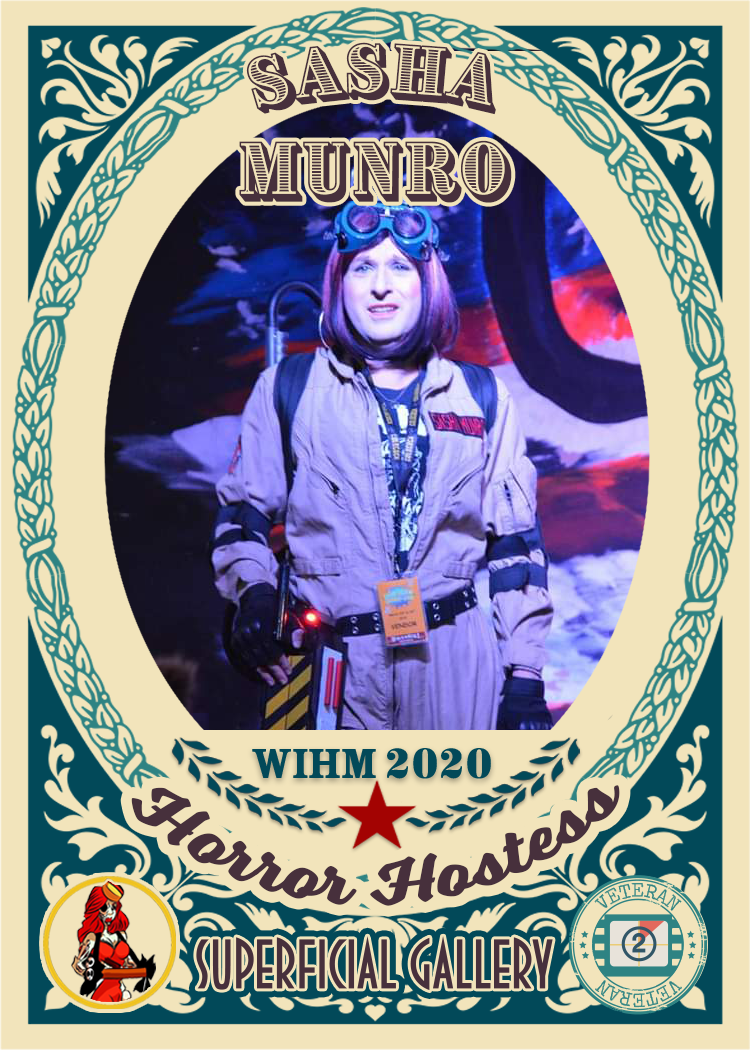 Sasha Konstantine Munro is a veteran to the Gallery WIHM event. She is a Horror Hostess / Podcaster.
What motivates you to do what you do?
I grew up with drive-in double features, Late Night Creature Flicks and Horror Hosts. Feel it's tine to bring it back with a little transgender representation and visibility courtesy of yours cruelly – Sasha, the Princess of Darkness.
Who is your favorite woman who does what you do?
Well I grew up with Horror Hostess and Cassandra Petersen, aka Elvira, was the woman I wanted to be… outside of Caroline Munro that is.
If you had one wish for women in your space in 2020, what would it be?
That transgender women, especially those of color, could be more visible and respected in their lives without the fear of hatred and death constantly over our heads. It's part of why I do what I do with horror. If I can get one person to go that woman sure knows her horror, and can overlook the fact I'm transgender, then I've done my job and with that visibility I hope I'm making the path easier for the next woman who must travel upon it.
Share a practical tip for a woman who wants to do what you do.
The path is never clear or easy. Sometimes you have to forge your own. Know what you want, and how you can get there even if it means you are on your own, but never be afraid to help someone else along the path to your goal.
Inspire someone who is not where they want to be in the industry yet.
If you want it, don't be afraid to forge your own path. Make your own movie. Be on YouTube. Work with locals with similar interests and goals. It's that simple.
What scares you?
People have all kinds of fears. Fears of losing a loved one, heights, even death itself. The only fear I ever have is not fighting or standing
What projects do you have coming up?
Always trying to pump out new episodes of "The Podcast of Darkness", "Sasha After Dark", "Double Creature Features" and of course my usual Horror Reviews as Sasha, the Princess of Darkness. Still kicking around a Princess of Darkness movie or two but those may become novels until I can raise the capital to get them onto celluloid.
Important Links for Sasha Konstantine Munro
Find all my videos at https://www.youtube.com/c/sashatheprincessofdarkness