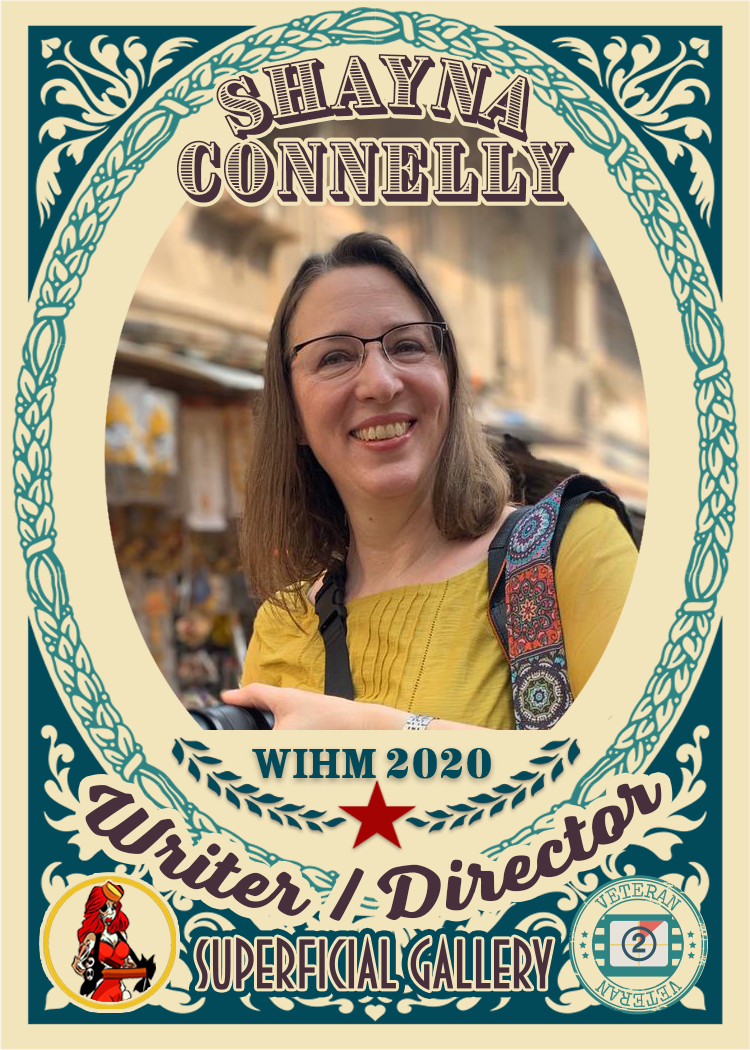 Shayna Connelly is a veteran to the Gallery WIHM event. She is a Writer/Director/Producer.
What motivates you to do what you do?
An obsession with death, hauntings and movies motivates the work I do. Over the years I've found a way of operating that lets me explore ideas and a variety of approaches to my favorite morbid subject matter. Some of my work has difficulty finding an audience, while other films are more accessible. Each finished film provides some new quandary to tackle in the next. Work that is entertaining and challenging provides constant motivation.
Who is your favorite woman who does what you do?
Lynne Ramsay, Chantal Akerman and Lucretia Martel are some of my favorite filmmakers. They aren't genre filmmakers, but all explore horrors women experience in the world. While I love horror as a genre, I pull inspiration from a wide variety of mediums and approaches. I appreciate any artist with a strong voice, but particularly women who work from a feminist perspective. These three filmmakers faced significant difficulties in their careers because they are women and managed to continue putting out films despite set-backs. Akerman died in 2015, but she was a pioneer whose vision and tenacity helped pave the way for other women in the field.
If you had one wish for women in your space in 2020, what would it be?
That female filmmakers, actors and crew have safe environments in which to create and explore. Women require concrete opportunities in the form of paid jobs in key creative roles, financial support for films, exhibition and distribution. Women are still at a disadvantage trying to get their voices heard in the world. We should be allowed the freedom to be able to make mistakes in our careers that we can recover and move on from.
Share a practical tip for a woman who wants to do what you do.
Approach your career as a process with you at the center rather than as a series of projects. In a process it's OK to explore something and then abandon it in favor of something better. It's OK to pick up an old idea to develop. When you think of what you do as a process, finishing films becomes less fraught because by the time audiences start seeing them, you've moved on to the next phase in your evolution as a filmmaker. You'll still enjoy the attention for the "old" work, but will be in a position to connect it to something new.
Inspire someone who is not where they want to be in the industry yet.
Your voice is important, it will grow with time and experience and do not be deterred. Surround yourself with people who support you, make you better, tell you when something isn't working, cheer your successes and bring you back up when you feel demoralized. You need a community in order to be your best. The more you put yourself out there, the faster you will find your people.
What scares you?
Though I make films about ghosts, ghosts don't scare me. That means my ghost stories are not about terror, but dread. People, on the other hand, are universally horrifying. Along with being terrified by humans, I find being a filmmaker a scary endeavor, too. That doesn't mean it's not also amazing, but there are points in the creative process where you bolt upright out of a sound sleep thinking, "what have I done?"
What projects do you have coming up?
I'm headed into pre-production on a short about a woman at a crossroads in her life, while still hashing out the details on a feature script. The feature is fun, but also slow-going. I'm bogged down with horror imagery and episodes that are not quite gelling into a logical progression. That's not unusual for me, and I've started exploring the line between memoir and fiction in prose to declutter my mind and try to figure out the connections in the feature film's world. I have four shorts and a short script out in festivals and am editing an observational documentary on cemeteries and grieving.
Important Links for Shayna Connelly
I'll be at Women In Horror Film Festival during WIHM 2020 with a short script in competition called Love as Practice for Dying. Last year's event was life-changing magic and I can't wait to go back!