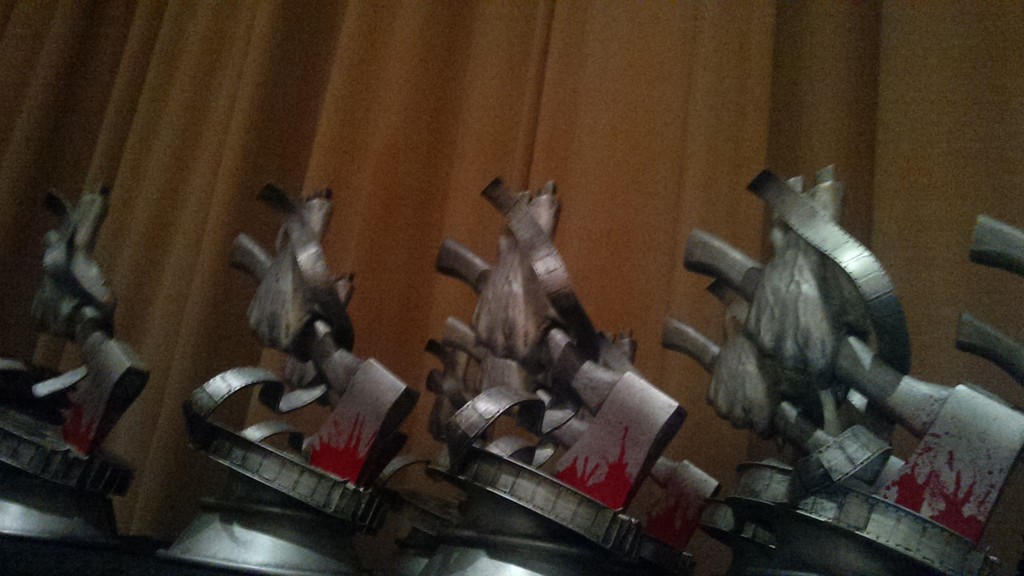 There are these bizarre moments of happenstance that you can't ever plan or rationally qualify. Take, for example, the fact that you're reading this article about the first annual Women in Horror Film Festival as told by me. I mean, the series of events leading me to be in Peachtree City, Georgia (an Atlanta satellite city) are kind of convoluted even by my standards. It all started when I reluctantly joined Instagram a few years ago. Let's dive into the rambling storytelling of Danno and see if we can make sense of it all.
As a struggling author and unemployable freelancer at the time I was desperately looking for a way to market myself with social media and maybe put the bill collectors at bay by bringing in some money for my work. I joined Instagram just like millions of Millennials, hipsters, and elderly grandmothers, intent to share snippets of my work and the visual art I dabble in all in the slim hope that someone might notice. This quickly became a mindless timesuck of scrolling through memes and horror movie images until I saw something that caught my eye. A man in a top hat, his face marbled, jaw dislocated with a swarm of something erupting through his gaping mouth caught my eye. I mean, seriously, how could I pass this up? the creature was the titular villain of the Aussie short film Alfred J. Hemlock and I immediately started emailing the page, begging so a screener to do a write up on. This soon became the most popular article I'd ever written and my rapport with the creators and stars became a friendship. It was that friendship that brought me out to meet them at Women in Horror where I also encountered a silver masked luchador with a New England accent and a proposition: write about the awards show for me.
Acadia Einstein has the distinct honor of being the first guy in a luchador mask to ever buy me a beer and was a part of this eclectic smattering of creators who gathered immediately each night on the patio of the hotel bar to discuss horror, filmmaking, and whatever else tickled us. But I'll save my stories about this cabal of writers and filmmakers who bonded over alcohol, cigarettes, and gore for another article and tell you all about the first year, three-day long film festival in the heart of the South where movies of all lengths from all over the world terrified and excited audiences. These were some of the best and brightest creative talents in independent cinema of an entire generation who came together to highlight the gruesome glory that can happen when women crash through that glass ceiling and take control of the lens.
So who won and who lost? Well, if you watched as many films as I just saw, there were absolutely no losers. Each had a unique voice and artistic vision not to mention spine chilling moments of horror and gruesome, even stomach churning gore. But while all were absolute genre gold, only a select few took home the coveted award, The Lizzie.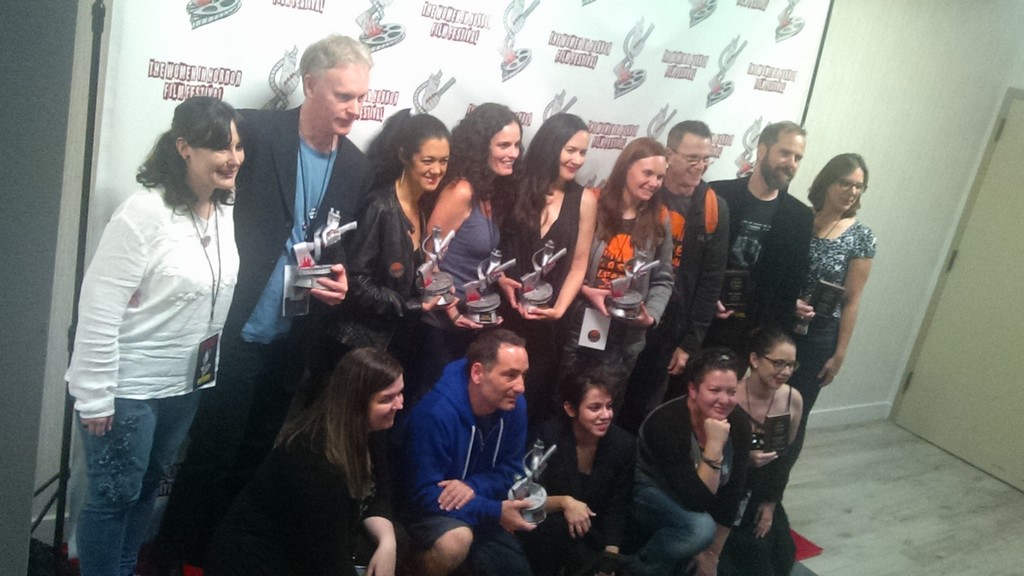 The Winners!
Best Feature Film – Ruin Me

Best Thriller – Scratch

Best International Short – Nasty

Best Visual FX – Undress Me

Best Writing – Alfred J. Hemlock

Best Regional – 106 White Lake

Best Horror – Unbearing

Indie Spirit – Murder Made Easy
A special Lizzie was also awarded to the two patrons who helped make this inaugural festival a reality: Pasquale and Gloria Ionta.
The Lizzie itself is a beautifully sculpted and truly unique statuette of a woman's dismembered hand clutching a bloody hatchet as it smashes into a film reel. Created by artist Chris Fullam and brought to life by Karl at Monster Dork Studios, each was hand painted with a unique blood spatter on the axe head ensuring that no two Lizzies will ever be the same.
Liz Drives, Buzzard Hollow Beef, and so many others took runner up places and every last film from the student made shorts and experimental, existential art house pieces were all so amazing that it's worth the price to attend.
As for me, I had some favorites that appeared, films I'll be wanting to see again and filmmakers whose work I'm looking forward to seeing in the future. Alfred J. Hemlock has a very special place in my heart because of my association now with the cast and creators. It's a brilliant film about a broken woman on the edge redeeming herself while battling demons both internal and real. Meanwhile, Unbearing made me almost physically ill exploring the notion of every parent's worst nightmare and the madness it can bring.
Everything in the horror-comedy block was gold while giving us some memorable, though unfortunately unrepeatable lines about stabbing the Devil and trash talking the obsession that is robbing a woman of her spouse. Check my Twitter (@dotdblog) soon for those repeated comments that have now become a part of my personal catch phrase arsenal.
Filmmakers, submission for Women in Horror Film Festival 2018 open up this year on October 1st. Horror fans, get busy following Women in Horror (and all of these astonishing filmmakers) online today!