I was looking at the horror movies coming out this year and was FOOLISHLY thinking that the only film of consequence in January was Escape Room. Wrongo Bongo! I just found out about The Car: Road to Revenge. Take a look at this madness!
So there I was, thinking based on the title that this was a sequel to the 1977 CLASSIC The Car starring Ronny Cox and James Brolin. Man when I was little that movie was on cable 100 times a week and my drunk uncle would always watch it. Look at these poor desert folk, totally unable to deal with the metal heat the Devil is applying to them!
Now, you may have noticed that the cars sort of look similar in both movies. I think that is because The Car: Road to Revenge IS a sequel. But boy howdy, 42 years seems to have done a number on the desert and The Car does not know how to cope.
In the original, The Car is the bad guy, knocking people off bridges and whatnot. But in the new one it almost seems like it is the good guy? I mean, is The Car going to fight the Road Warrior people? I guess I hope so? But then are the Road Warrior people good? Why is the trailer for the new one so short? This all makes me angry!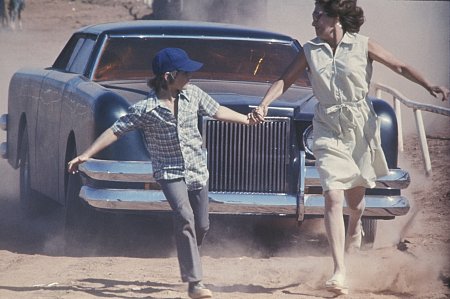 I guess I will have to reserve judgement until I see it but as of right now I am pretty convinced that I will throw something at the TV if The Car turns good. We need to be able to count on things in this world, you know?